On November 15th, 15 countries in Asia and the Pacific have come together after 8 years of strenuous negotiation to sign the Regional Comprehensive Economic Partnership (RCEP). The 15 member countries account for about 30% of the world's population (2.2 billion people) and 30% of global GDP ($26.2 trillion) as of 2020, making it the biggest trade bloc in history.
The RCEP includes the 10 ASEAN member countries of Indonesia, Thailand, Singapore, Malaysia, Philippines, Vietnam, Brunei, Cambodia, Myanmar (Burma), Laos as well as China, Australia, New Zealand, Japan, and South Korea.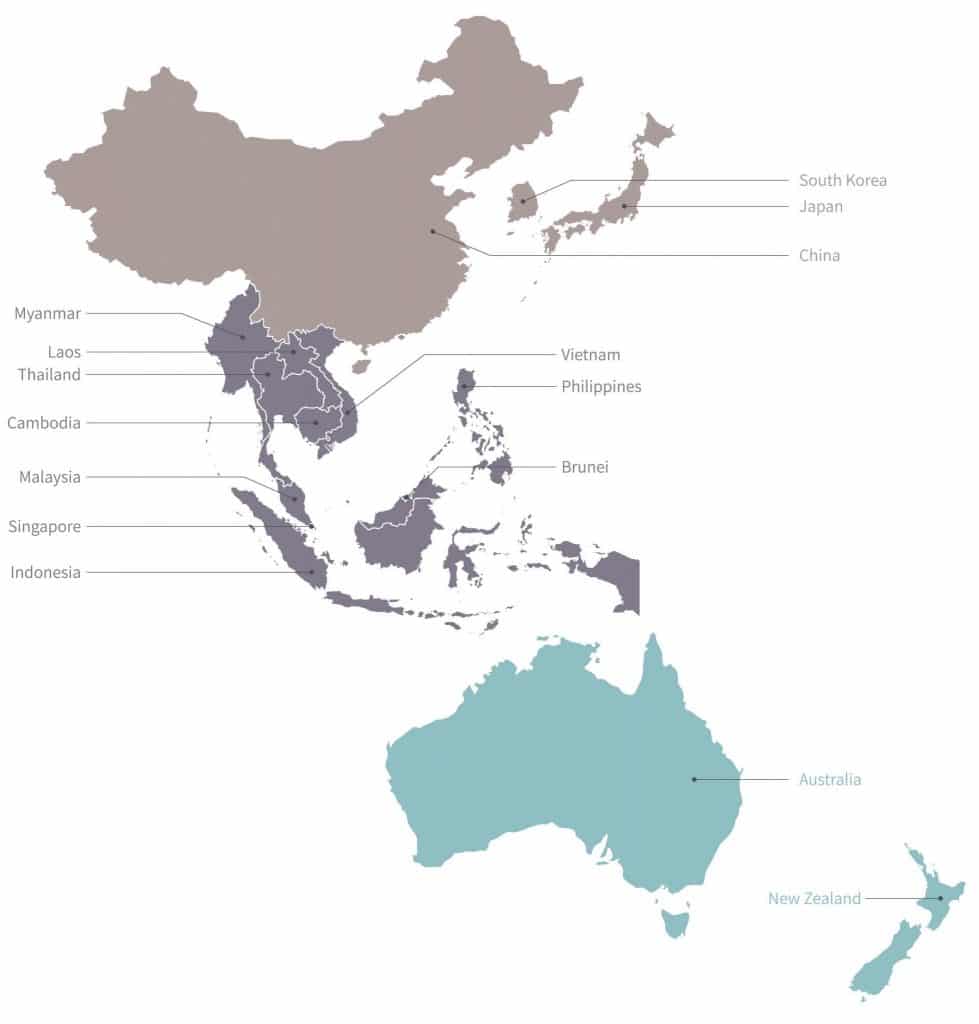 While China is party to 17 bilateral free trade agreements , this is the first multilateral regional trade agreement China has signed itself to and represents the first trade deal between China, Japan and South Korea – three of the four largest economies in Asia.
Notably missing from the RCEP is India, who withdrew from negotiations in 2019 due to concerns that the RCEP could be detrimental to domestic producers as they compete against relatively cheaper goods coming in from other markets.
However, the signatories have expressed their strong will to re-engage India and understand the strategic importance of India eventually becoming a member and have provided India the right to accede into the agreement from the date of entry into force.
The primary goal of the RCEP is to broaden and deepen engagement amongst its member countries through a comprehensive, modern, high-quality, and mutually beneficial economic partnership. The new bilateral trade agreements build upon the many existing trade agreements in the region and formalizes new trade relationships between countries who had no prior free trade agreement in place.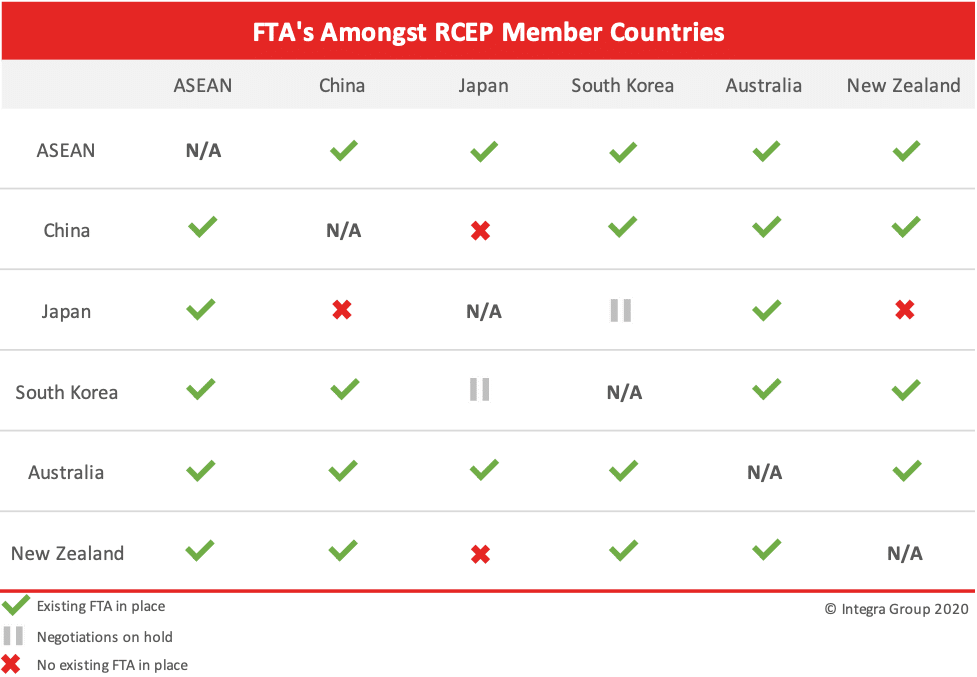 The agreement signed on November 15th sets favorable new standards for harmonizing the rule of origin for goods qualifying for the reduced tariff rates but falls behind other FTA's in areas such as environmental protections, labor standards, and rules reining in state-owned enterprises.
The basic structure includes 20 chapters, including commitments in areas like trade in goods, trade in services, investment, intellectual property rights, e-commerce and dispute settlement – many of which are not included in other ASEAN + 1 trade agreements.
Once the agreement enters into effect, many of the policies will be progressively implemented according to the schedules set out by individual member countries – some taking up to 20 years until fully implemented.
Trade in Goods
This chapter includes granting national treatment to the goods of the other signatories, reduction or elimination of customs duties, duty-free temporary admission of goods, and provisions on export competition, including elimination of scheduled export subsidy entitlements for agricultural goods.
Tariffs on an estimated 90% of all goods will be eliminated incrementally over a 20-year period according to the Schedule of Tariff Commitments prepared individually by each country. Some tariffs will remain – such as some agricultural products and other sensitive products.
Rules of Origin (ROO)
This chapter unifies all member countries under a common rule of origin system. This means that a single Certificate of Origin can used to trade across all 15 countries – therefore significantly reducing the number of rules to follow and paperwork required. This chapter also set out the requirements for determining originating status of goods in order to enjoy the reduced tariffs under the agreement. Products will need just 40% of their value to be added within the region in order to take advantage of lower tariffs.
Customs Procedures and Trade Facilitation (CPTF)
The agreement aims to ensure predictability, consistency, and transparency in the application of customs regulations, and expeditious clearance of goods through customs.
For express consignment and perishable goods, the expectation is that goods will be released from customs control within 6 hours of arrival and submission of all necessary documentation. To the extent possible, the expected time period for the customs clearance of other goods is within 48 hours of arrival of goods and lodgment of necessary information.
Trade in Services
This chapter aims to open up avenues for greater services trade among the member countries through removal of restrictions and discriminatory measures affecting trade in services. The annex to trade in services provides a commitment to the opening up of financial services, telecommunication services, and professional service. Countries are allowed to adopt Non-confirming Measures for specific service sectors deemed as sensitive.
Member countries are to use a negative list approach – such as the one currently used in China – for the exclusion of service sectors and provide equal market access to service industries not included on the list.
Temporary Movement of Natural Persons
The RCEP endeavors to facilitate the movement of natural person engaged in trade in goods, the supply of services, or to conduct of investment between member countries. Member countries commit to providing timely processing of visa and immigration applications, transparency related to relevant immigration formalities, and to the extent permissible under local laws, convenience in applying for visa's and temporary movement – includes spouses and dependents.
Investment
This chapter eases investment restrictions amongst RCEP countries through various provisions to facilitate foreign direct investment. This chapter also provides a built-in work program on investor-state dispute settlement provisions.
Member are permitted to adopt Non-conforming Measures using the negative list approach for industries restricted or off-limits to foreign direct investment.
Intellectual Property
Under the RCEP, protection and enforcement of intellectual property rights goes beyond the level of the WTO TRIPS Agreement, including technological protection measures (Electronic Rights Management Information) and enforcement in the digital environment. The agreement also provides provisions for greater protection of non-conventional trademarks based on sounds and signs acquiring their distinctiveness through their use (i.e. industrial designs).
E-Commerce
The agreement aims to create a conductive environment for cross border e-commerce through transparency of information between member countries, paperless trading, greater use of electronic authentication (e-signatures), and easing restrictions on cross-border location of computing facilities and cross-border transfer of information by electronic means.
What does the RCEP mean for foreign investors in China?
For foreign investors in China, the RCEP will bring substantial new investment and trade opportunities across the region. Producers in China will retain its low-cost advantage over countries such as Australia, New Zealand, Japan, and South Korea while benefiting from the lower tariffs, streamlined procedures, and greater market access.
Unlike many other member countries who have numerous existing trade agreements in place, the RCEP represents the first such trade agreement between China and Japan. Japan is China's second biggest trade partner after the United States and accounts for 6% of its exports and 8% of its imports. The tariff savings for Japanese imports across segments of transportation equipment, machinery & electrical equipment, chemicals, plastics & rubbers, and metals is estimated to be USD 7.3bn, according to an analysis by DBS.
Strategies such as the "China + 1" – which see multinationals place operations in China and another country – will also increase in viability due to the lower costs and streamlined customs procedures and unified ruled of origin. As the cost of doing business in China increases, businesses can increasingly make use of lower-cost ASEAN countries to augment their business process with less cost and complexity than before.
The RCEP is currently pending 6 ASEAN member countries and 3 non-ASEAN member countries to ratify the agreement. The agreement enters into effect 60 days after the 9th state ratifies the agreement. The remaining signatories will join the active agreement 60 days after their own documents are submitted.